Harvesting Begins in Greenoch and McQuade Forests
In late 2013 harvesting began in McQuade Forest to take advantage of high log prices and to prepare roads and skid sites for a hauler due to arrive in winter 2014 to commence clearfelling. Approximately 2km of road was built along with 3 skid sites. This will provide the required infrastructure needed to harvest the first 60-70 hecatares in McQuade. It is expected that harvesting will take another 3 years to complete
In February 2014 the small crew in McQuade moved into Greenoch to harvest trees on the roadline so that harvest roads and skid sites could be built. Currently approximately 1.5km of road has been finished in Greenoch with road construction work expected to carry on until May, weather permitting. A full time hauler crew is scheduled to move in to commence clearfelling in August 2015.
Picture above (Greenoch Forest): A digger removes stumps where a roadline has been felled. The stems will be removed and a road will be built to a skid site at the end of the ridge.
Picture below (McQuade Forest): View of the new road constructed in McQuade.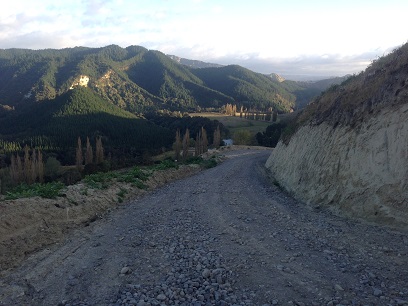 Back to News